Downtown Denton is the Center of Life for Residents and Visitors Alike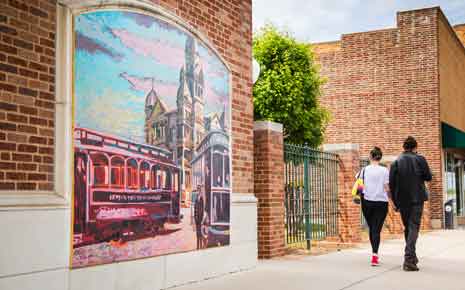 Downtown Denton is the hub with fascinating shopping, dining and entertainment that draws individuals, families and groups from miles around. The eclectic mix of historic buildings and recent, fresh entrepreneurial ideas are essential to Denton's vitality.
Discover Denton is a resource on the diverse collection of unique shops, intriguing restaurants and bars and exciting live music venues in the city. Downtown Denton has been a Texas Certified Main Street since 1990 and the American Planning Association recognized Denton as a featured city in its 2022 'Great Place in Texas' series. 
The Denton Main Street Program has overseen numerous improvement projects over the past 30+ years involving investments in excess of $132 million into the downtown area.
Downtown Denton hosts exciting and lively events year-round, from live outdoor music concerts on the courthouse lawn to arts and cultural festivals, all amidst the incredible collection of vintage shops in historic buildings, family-run businesses and unique restaurants. However, the best part of spending time downtown is the presence of friendly neighbors welcoming everyone to experience the best of Denton.
Downtown Denton's dining, shopping and entertainment avenues are truly too numerous to list here. Please visit the Denton Main Street Program website to find the perfect locale to match your wishes today.