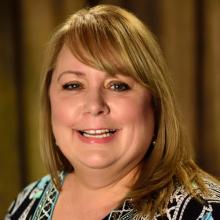 Christina Davis
Business Development Administrator | City of Denton
Department: Staff
As the Business Development Administrator, Christina has more than 20 years of experience in local government with a focus on economic development. Since joining the City of Denton Economic Development in 2006, she has developed and implemented programs centered on the City's focus areas and Economic Development Strategic Plan, including business attraction and retention, collaborative relationships with industry leaders and creatives, and small business development. Previously serving as the ED Specialist, Christina was the creative talent and editor for several economic development publications and coordinator for retail marketing programs for the City.
Before relocating to Texas, she worked for the City of Modesto, CA, in the Business Development Division of Community & Economic Development and the Modesto Redevelopment Agency. During her time in Modesto, she was responsible for marketing Modesto, branding the Redevelopment Agency, and serving as interim Business Analyst.
Christina currently serves on the Denton County Workforce Success Leadership Team, Ex-Officio Member of the Discover Denton Advisory Board, Assistant Manager of Denton Main Street, liaison to the Governor's Office of Economic Development and Tourism's Music Friendly and Film Friendly Communities programs, and multiple City advisory committees and boards.